Dr. Brett Wallace has earned a Bachelors of Science in Education degree from Jacksonville State University, a Masters in Education degree from Georgia College and State University, an Educational Specialist degree from Columbus State University, and a Doctor of Education degree from Columbus State University. After many years of successful teaching and coaching experience in Troup County, Bibb County and Houston County, and 7 years of successful administrative experience at Warner Robins High, he was selected to serve as Principal at Warner Robins Middle in 2012. He is married to Dr. Tonya Wallace, who is the Assistant Principal at Houston County Career Academy, and they have 4 children, Maggie, Daniel, Reed, and Shelby.

Mrs. Brandy Farrell is a product of the Houston County School System. After graduating from NHS, she obtained her B.S.Ed. in Middle Grades Education from Georgia College and State University, her M.Ed. in Literacy and Learning from Walden University, and she is currently pursuing an Ed.S. in Educational Leadership through Columbus State University. Mrs. Farrell began her career at Byron Middle School, but has called WRMS her home for the past 12 years. She has served as a language arts teacher and department chair. Mrs. Farrell was selected as WRMS' 2007-2008 Teacher of the Year. In 2010, she achieved the designation of Georgia Master Teacher for consistently demonstrating gains in student achievement. She is married to Scott Farrell. They are the proud parents of three boys: Jake, Jackson, and Cael.


Mr. Cameron Andrews has been in education for 27 years. A graduate of Houston County School System, he attended Westside Elementary, Tabor Junior High and Northside High School. From there, Mr. Andrews completed his Bachelor's degree in Education from Georgia Southern University. He then taught high school Social Studies for 11 years, three of those years at Northeast High School in Macon, Georgia, and eight of those years at Houston County High School in Warner Robins. Mr. Andrews finished his Master's degree in Leadership from Columbus State University in 2003, and a Specialist Degree from Columbus State University in 2019. He began his administrative career at Thomson Middle School during the 2004-2005 school year as Assistant Principal. During the summer of 2009, Mr. Andrews transferred to Warner Robins Middle School where he currently serves as Assistant Principal. Mr. Andrews is also an ordained minister in the Church of the Nazarene, receiving his degree from the Georgia School of Ministry which is an extension of Nazarene Theology Seminary in Kansas City, Kansas. He served as the Youth Pastor of the First Church of the Nazarene in Warner Robins From 1994 to 2013 and has served as the Family Pastor since 2013. Mr. Andrews has also served his community since 2002 as city councilman in Centerville.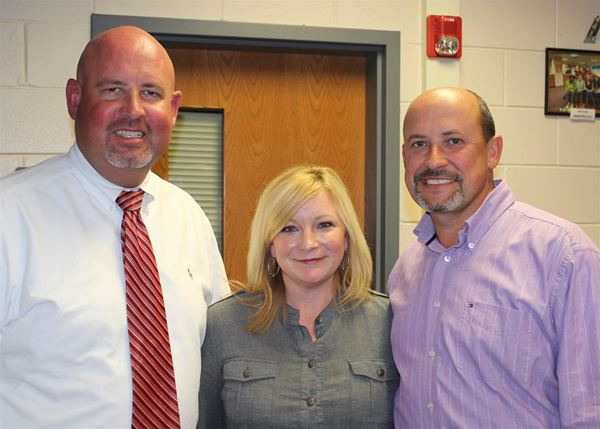 D
r. Wallace, Mrs. Farrell, Mr. Andrews